Commercial Refrigeration Services
Servicing North Adelaide including Prospect, Campbelltown, Glenelg, Elizabeth, Henley Beach and beyond.
After 32 years of experience in the refrigeration industry, we have learnt a thing or two about commercial refrigeration in Adelaide. We know which refrigeration unit is right for your shop, warehouse or factory. We know the best way to set up your refrigeration system so that it saves you money by using less power, and so that you won't be spending money on repairs and spoiled product. We know how to set up refrigeration of all kinds: from short-term storage of foodstuffs (~4°C) to longer-term frozen storage (≤0°C).
We have extensive experience with all kinds of commercial refrigeration jobs. We do commercial refrigeration repairs, installations, inspections and upgrades, just to name a few. For any kind of commercial store or business and for any kind of refrigeration job, Shiraz should be your Number 1 choice.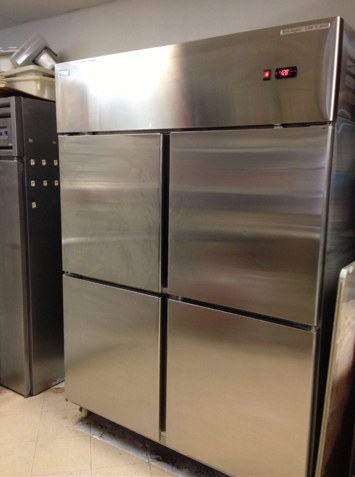 Office Refrigeration
Keep up morale in the office by hiring us to install a refrigerator that is right for your office space. We take into consideration space-availability and capacity requirements.
Commercial Refrigerator Repairs
If your refrigeration starts to fail on your business, this can mean big consequences. That's why Shiraz is always ready to respond quickly to businesses who need their refrigeration repaired.
Factory Refrigeration
Shiraz has the experience to handle even the largest-scale factory refrigeration jobs. Your factory may need 400 cubic feet of refrigerator space; your factory may need entire cool rooms. We excel at installing refrigeration at this scale.
Warehouse Refrigeration
We are a company that is experienced in catering for clients who need vast amounts of product refrigerated. We can install any number of refrigerators, freezers or cool rooms in your warehouse to keep your product fresh.
Kitchen Refrigeration
We will fit your restaurant with the right fridges for storing foodstuffs of the quantities that you require. E.g. if you are a seafood restaurant you need lots of freezer-space.
Commercial Refrigerator Inspections
How much money are you betting that your business's refrigeration keeps working? The amount of perishable product in your fridges equals this amount. That's why it can save you a fortune to get your fridges checked up by us at regular intervals, just like you would with any important machine (including your car).