Cool Room/Freezer Room Repairs
Servicing North Adelaide including Prospect, Campbelltown, Glenelg, Elizabeth, Henley Beach and beyond.
Any kind of cool room or walk-in freezer malfunction can cause your business to grind to a halt, and can cost you a lot of money in spoiled goods. That's why Shiraz repairs any kind of cool room or walk-in freezer problem.
We repair:
Faulty thermostats
Unsealed doors
Ceiling, wall and floor insulation
Broken defrosters
Broken anti-condensation
Broken evaporators
Blocked or broken pressure vents
And much much more….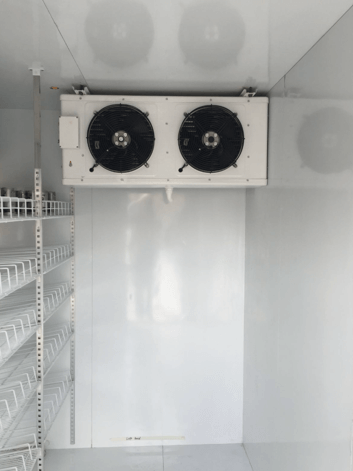 Irregular Temperature
This is most often a thermostat problem, and it is something we are very experienced at fixing. We usually replace the broken thermostat with a new, high quality one, and this will increase shelf-life by providing a constant temperature.
Escaping Cold Air
One of the biggest wastes of money possible with cool rooms and walk-in freezers is if your cold air is just escaping through an unsealed door. We will reduce your electricity bills by sealing the leak.
Excessive frost buildup
If you have frost accumulating, it is a slippage safety hazard and can seal your storage in ice. You have excess humidity in your cool room because part of your system is broken, but we can fix it.
Excess humidity
Depending on your cool room or walk-in freezer setup, excess humidity and frost can be caused by a faulty defroster, anti-condenser or evaporator. Thankfully, we can diagnose the problem and fix any of these.
Low pressure (vacuum sealed door)
If opening the door of your refrigerated room requires the strength of 10 horses, you have a low pressure problem. We can diagnose and fix the problem with your fans or vents.
Sub-par insulation
Insulating your cool room or walk-in freezer is a cheap job that can save you lots of electricity costs over the months and years. We will fix and improve the insulation on the walls, floors and ceilings to prevent coldness escaping.