Cool Rooms and Walk-In Freezers
Servicing North Adelaide including Prospect, Campbelltown, Glenelg, Elizabeth, Henley Beach and beyond.
If you need a far greater volume of refrigerated or frozen storage space, you probably know that the most cost-effective solution is a cool room or walk-in freezer. For your store, restaurant, warehouse or factory, you can depend on us to be able to cool that storage room by 30°C or more.
We have ample experience in installing the air coolers, vents, water supply and distributor for efficient cool rooms and walk-in freezers. That room will be another world by the time that we're done with it.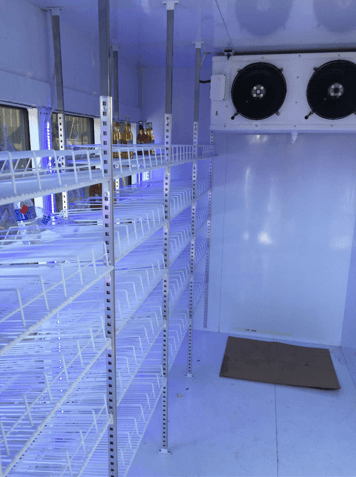 Cool Rooms
Cool rooms are what you need for the efficient mass storage of meat, fish, fruit, vegetables, cereals, flours and so on. Refrigeration is the miraculous storage-life extender of almost any perishable.
Walk-In Freezers
Walk-In Freezers are at 0°C at the absolute maximum. The deep cold of these rooms can keep meat fresh for up to one year.
Improve your logistics
More refrigerated storage space can do wonders for your business's logistics. Many of our customers now save money by buying their perishables in greater bulk.
Refrigerated compartments
If you only need a refrigerated space inside a compartment, we can install it for you.
Scale-up the size of your refrigerated room
We can increase the size (or decrease the size) of your cool room or walk-in freezer.
Reliable temperature
We take care and use quality thermostatic parts to ensure that your refrigerated room always remains a constant temperature.