Fridge Repairs Adelaide
Servicing Adelaide North – East – West – South & Adelaide Hills.
Why Shiraz Refrigeration
✔Same day Service
✔Immediate Response – Open 7 Days
✔Over 30 Years Experience
✔Fast & Friendly Service a Right Price
✔Senior & Pension Discounts
✔Onsite on time
✔Experienced Professionals
✔Local Adelaide Based Technicians.
You know how the saying goes: when your fridge stops working, your family stops working. Well, maybe that's not a saying, but it should be. You and your family rely on your fridge for almost all of your chilled and fresh food. You don't realise how much you need it until it breaks down (and the ice-cream melts).
Fridge breakdown can cause valuable food to spoil, and it can leave you eating instant noodles for dinner (not the cornerstone of a healthy meal). For home fridge repairs in a flash, you should call Shiraz.
We provide home refrigeration repairs services for brands like GE, LG, Samsung, Whirlpool, Westinghouse, Electrolux, Hisense, Bosch, Maytag & many more.
We know what we're doing
With 32 years in everything up to factory refrigeration, we know our way around a fridge.
Fridges in disrepair waste money
Don't wait until a complete disastrous fridge breakdown to call us. We can save you energy costs by repairing your inefficient faulty fridge even before it (figuratively) explodes.
Rapid Response Team
We call our repair team our rapid response team, because we respond to your call as quickly as possible. Don't fret because your milk won't spoil.
We repair all models
We have a vast and varied team of fridge servicemen. We have the knowledge to repair all fridges—new and old.
Covering All Adelaide Area
For over 30 years Shiraz Refrigeration have provided domestic fridge services to customers throughout the Adelaide metro area.
12 Month Warranty
Don't forget, all workmanship by us comes with a 12-month warranty.
Appliance Brands We Service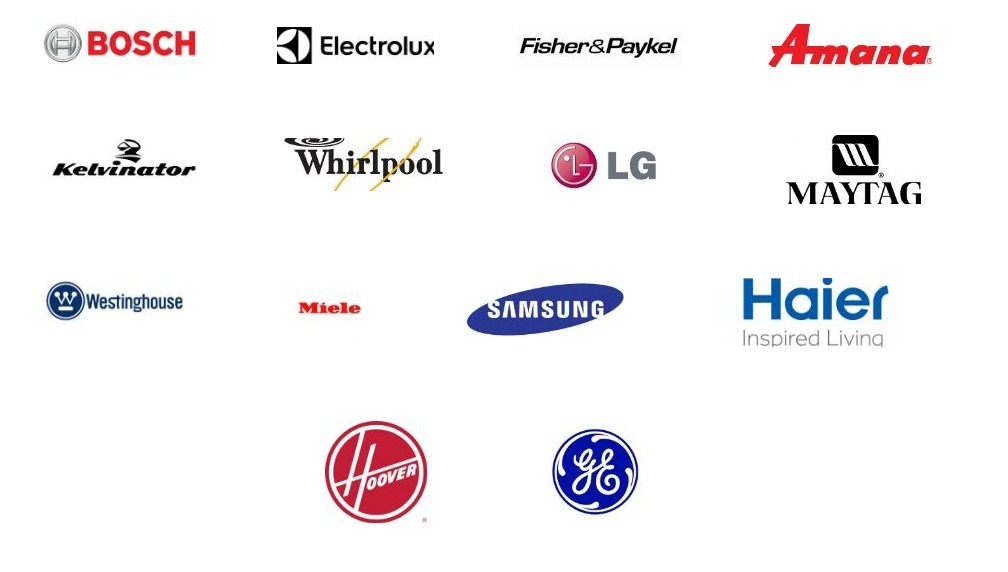 Fridge Repairs Adelaide – Fixing Your Fridge
Your fridge in your Adelaide kitchen is arguably the heart of your home. Just see what happens in your place if and when your fridge breaks down. I don't mean a flickering light – although that can be a real nuisance – no, I mean when your fridge simply stops. There are some serious consequences.
Wasted food is the obvious dilemma. Food in your freezer will defrost and unless used fairly quickly will be wasted. Ice cream is never great when it turns to liquid. A delay in fridge repairs can result in a serious financial penalty with all that wasted food. It will cause your evening meal planning to disappear.
How to choose a professional domestic fridge repair service
✔Look for experience
✔Look for a great reputation
✔Look for a written guarantee on all parts and labour
✔Do they service all makes and models?
✔Do they offer a rapid response?
✔Do they provide free quotes?
All these factors are important. You want the best refrigeration mechanics. You want a fast and professional response. You need a written guarantee.
There is one other super important fact you should consider. You don't have to wait for your fridge to give up the ghost before your contact your professional refrigeration repair service. Sensible maintenance can prevent major breakdowns and save you time and money. Talk to the experts about a check-up for your fridge. Your food and drink and your taste buds will thank you for it.